Saves Money by Putting Tuberculosis Patients Back in Community
When Florida joined a bunch of other states in 2010 and elected extremely conservative Republicans as Governors, one possible saving grace was that the Florida winner, Rick Scott, had a previous history as a senior executive of a huge health care company. Ok, a large part of that experience involved cheating Medicare, but one would have though at least a little health care knowledge would have rubbed off on him.
Apparently it didn't.
In the
Jacksonville
area there is a major TB outbreak. TB is serious stuff, it can be deadly and it is highly contagious. So what are the
Florida
health
officials doing under
the leadership (?) of Gov. Scott?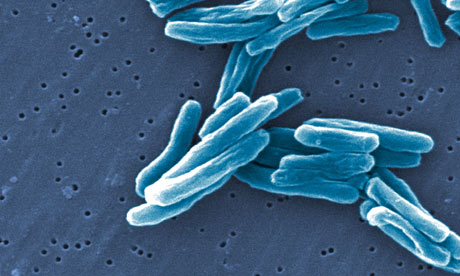 Gram-positive Mycobacterium tuberculosis bacilli,
the causative agent for tuberculosis. Photograph: CDC/Rex Features
Health officials in Florida hastened their closure of the nation's only dedicated tuberculosis hospital on cost-cutting grounds as one of the worst outbreaks of the deadly disease in 20 years was taking a grip on the state, it has been revealed.
Gosh, that sounds serious, and it is.
At least 3,000 people in Jacksonville may have been exposed to the highly contagious respiratory illness that claimed 13 lives in the city and left another 100 sick in the last two years, a report from the Atlanta-based Centers for Disease Control and Prevention (CDC) concluded.
So what is happening to the patients. Given the seriousness of the disease and the highly contagious aspect of it, they wouldn't be dumb enough to release the patients into the community, or put them in public accommodations, say motels would they?
As a result, patients once deemed too sick for contact with the public were released into the community and others newly diagnosed with the disease, mostly from the homeless population, are being put up in local motels in an effort to keep them on their medications.
But there must have been huge savings from the move, because even Conservatives wouldn't endanger the health of a community unless there were big financial benefits.
Meanwhile, the Florida department of health expects to save up to $10m a year by closing AG Holley, which had treated patients with the most severe cases of the disease since 1950. The hospital discharged its last patients a week ago.
Yes, $10 million in savings out of a state budget of $70 billion, yes $70 billion. For those people math challenged that is 15 hundredths of 1% of the state budget. To put it in perspective, for a family with an annual income of $50,000 it would be a savings of about $7.50.
The state surgeon general defended the move, saying that the people could be placed back into the community where they would get adequate care and where there was no danger to the public, but that contradicted a previous position
Yet before the closure was announced the department always claimed that patients admitted to AG Holley "cannot be treated and cured in the community".
In its 2013 health plan, it stated: "All of AG Holley's patients have failed treatment in their communities or have been diagnosed as medically complex requiring specialised care and treatment."
But those who are planning a vacation to Jacksonville and plan to stay in a motel, don't worry.
"No patient who requires the level of treatment and care associated with hospitalisation are housed at local motels. Only low-risk clients who may require directly observed therapy as treatment are potentially housed in motels."
Yes, that wheezing, hacking, sputum spitting person in the room next door is low risk. Have a nice evening.