Maybe He Will Get Another Chance
The 2010 elections brought a spate of Conservative Republican governors to office, and none have been more Conservative, more combative and more aggressive than
Florida
's Governor Rick Scott.
Gov. Scott took control of the office, and really took control of the office.
Coming from the private sector, Gov. Scott decided
Florida
should be operated like a business, and in a business if the CEO wants to do something, he or she does it.
The result, a series of lawsuits challenging the Governor's authority.

Jason Henry for The New York Times

was sued in June by a blind Miami woman collecting food stamps. The woman, Rosalie Whiley, said Governor Scott had delayed a rule that made it easier for her to collect food stamps.
And in an unusual decision, the Florida Supreme Court sided with the blind woman.
The Governor of course was highly upset that he could not make it more difficult for the blind to obtain food.
"It's a disappointment," Mr. Scott said, about the decision. "You know, think about it
Not a good suggestion Mr. Scott, most people when they think about it will probably want to make it easier, not more difficult for the blind to be able to eat.
Going forward Gov. Scott faces more court action.

Justice is Blind Gov. Scott
That's Probably Why the
Blind Woman Won Her Case

He is being sued for requiring state agencies to test job applicants for drugs and conduct random screening on existing employees (none are taking place pending the outcome of the suit).
Florida
doctors and their lobbyists are suing him to block a law that hampers their ability to ask patients about guns in their homes. . .
Three unions representing state workers, including the teachers' union, filed a class-action suit against the governor for taking 3 percent of their salaries and shifting the money into the pension system. . .
the union that represents state correctional officers is suing him in the hope of derailing a plan to privatize 30 Florida prisons . . .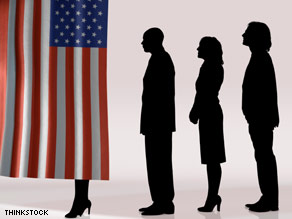 Can't Have These People Voting
Democratic, Can We Gov. Scott

Also pending is a lawsuit that challenges the governor and his administration over the establishment of a new voting law,

Last week, Citizens for National Security jumped in the fray. The volunteer group . . . sued Governor Scott over a new law that changes the way textbooks are reviewed and selected.
Well keep up the good work Governor, and remember, Mr. Obama is just dying for you to endorse his opponent in 2012.
Think you can do that without being sued?