Political News, Like the Weather, is Heating Up
In Wisconsin the first of nine
scheduled recall races was won by an incumbent Democrat

who survived with a strong 66% of the vote.

State Democratic
Senator. Dave Hansen defeated Republican David VanderLeest. The recall elections against Republicans in
Wisconsin
are the result of the anti-union legislation passed by the Republican majority in the legislature and signed into law by Republican Governor Scott Walker.
The recall against Democrats was spurred by the fact that Democratic legislators temporarily left the state to prevent a vote being taken on the legislation.
Democrats should not be too encouraged, because the Republicans did not exactly field an ideal candidate,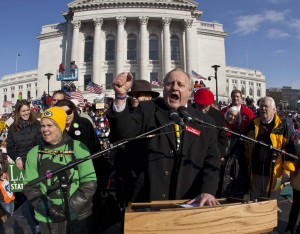 Hansen entered his race with a major cash advantage, raising $318,000 since April, while VanderLeest raised $2,000. VanderLeest was also vulnerable because of a criminal record that included convictions in 2006 on two misdemeanor counts of disorderly conduct.
At any rate, there is much more to come in
Wisconsin
from the 8 remaining races.
Stay tuned.