I
News Corp Former Exec is Shocked, Shocked That People Think She Knew
Britain
phone hacking scandal blew up when it was revealed by The Guardian that the phone of a 13 year old murder victim was hacked by an investigator working for a newspaper subsidiary of the News Corp.
News Corp is the Rupert Murdoch owned paper in
England
. It is a sister publication to Fox News in the U. S.
It turns out that newspaper in question
provided the mother of the murder victim
with a cell phone, and that the cell phone is question is on a list of phones that were possibly hacked by an individual working for the paper. The reaction of the mother
GETTY IMAGES
Ms Payne was "absolutely devastated" when the news was broken to her by officers from Operation Weeting, as the Metropolitan Police's phone hacking inquiry is known, her child welfare group,
The person who provided the phone was Rebekeh Brooks, then an editor. Ms. Brooks has had to resign her executive position with the News Corp. Earlier she stated that it was "inconceivable" that she new of the phone hacking, even though it was extensive and done by a company directly under her control and management. With the new revelation her reaction is
"The idea that anyone on the newspaper knew that Sara or the campaign team were targeted by Mr Mulcaire is unthinkable. The idea of her being targeted is beyond my comprehension.
No Ms. Brooks, what is beyond comprehension is that you did not know this.
You provided the phone, you were intimately involved in the stories about the case, you became close to the murder victim's mother.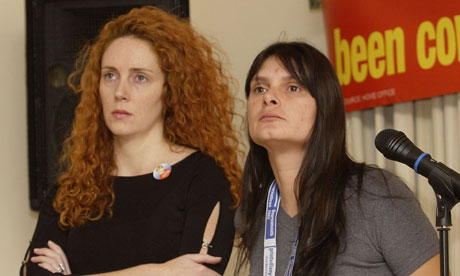 Ms. Brooks and Her "Dear Friend" Ms. Payne
Ms Payne's daughter was murdered
Ms Brooks Paper is charged with hacking the victims'
cell phone and the cell phone the paper provided
to Ms. Payne
 And finally there is this
Ms Brooks said the latest allegations were "abhorrent" and "particularly upsetting" because Ms Payne was a "dear friend".
Sorry Ms.
Brooks
, the idea that Ms. Payne was your "dear friend" is what is "beyond comprehension".
Has the concept of an apology and taking responsibility ever occurred to you?
In fact, what is beyond the comprehension of The Dismal Poltical Economist that you were a friend at all.
Do you even know the meaning of the word?