Why Is This News – It Shouldn't Be "New"
The state of excessive executive compensation,
particularly when the executive that is the subject of discussion has performed poorly is such that it is now considered news when said executive's excessive compensation is reduced. Such is the case when the executives at Barclays Bank will have to go without their bonuses this year.
Here is the
why.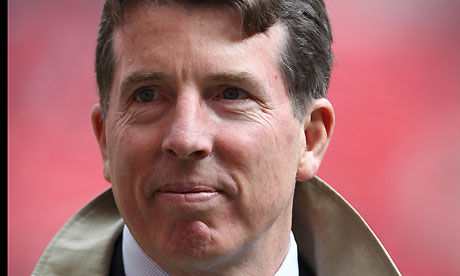 Bob Diamond has pledged to make Barclays a
better corporate citizen. - Right!
Photograph: Nick Potts/PA

Barclays has been slapped with total fines of £290m for its "serious, widespread" role in manipulating the price of crucial interest rates in a move that has forced chief executive Bob Diamond and other top executives to forgo any bonuses for 2012.
The £59.5m fine from the Financial Services Authority is the largest penalty ever levied by the City regulator, which found that Barclays contravened its rules for a number of years and involved "a significant number of employees".
The other penalties paid by Barclays are to settle with the US authorities, the department of justice ($200m) and the Commodities Futures Trading Commission ($160m), as part of an
industry wide probe into the way that interest rates traded between banks were set.
Of course these fines all sounds like a lot of money, and it is for normal people but it is really chump change for a large financial institution. In fact, most of the companies look upon fines like this as just another cost of doing business. Cheat a little, make a lot of money and if you get caught and have to pay a fine, well, that just cuts into the profits by a small amount.
The really big news is that the management team at Barclays is actually going to have to give up some compensation. Of course the CEO also made the obligatory "we are gong to be a better corporate citizen" statement too.
Diamond, who has been pledging to make Barclays a better corporate citizen, is giving up his bonus for 2012 as a result.
"The events which gave rise to today's resolutions relate to past actions which fell well short of the standards to which Barclays aspires in the conduct of its business. When we identified those issues, we took prompt action to fix them and co-operated extensively and proactively with the authorities," Diamond said.
"Nothing is more important to me than having a strong culture at Barclays; I am sorry that some people acted in a manner not consistent with our culture and values."
Now in normal places people who do bad things in a company lose their jobs. But at banks the rules are different. The crime is not breaking the rules, it is getting caught. And the punishment is not getting fired, it is making a few million less for a year.
The boss of Barclays Capital (the investment banking arm) Rich Ricci; the chief operating offer Jerry del Missier and finance director Chris Lucas are giving up their bonuses too.
And of course we do have the statement of a contrite CEO. That should count for something. And if this happens again maybe the executives will have to stay in their rooms after work and not go out to play for a week.