How Stupid Can the U.S. Be? - Pretty Stupid
The good news first. For those unfamiliar with food culture, a British chef named Jamie Oliver is one of these rare individuals, a wealthy celebrity who has a strong social conscience. As a famous chef he could do about anything he wants to with his life. One thing he wants to do is to show that the most disadvantaged young people, if given the opportunity, can become productive, highly skilled chefs in a restaurant.
Mr. Oliver has set in motion a program
that takes young people, the more difficult to train the better, and after careful screening puts them through an apprentice program in a high end restaurant.
The result – a staggering
success.
The restaurant, Fifteen Cornwall in Britain can be described this way.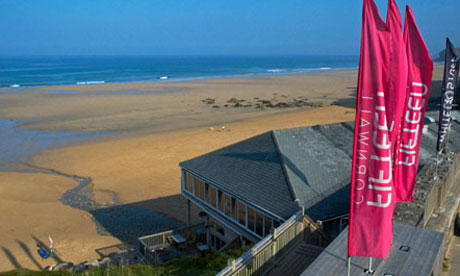 The award-winning Fifteen Cornwall at Watergate Bay,
which pays 70 full-time salaries a year and
spends £1m a year with local suppliers. Photograph: Alamy
It makes money: turnover of £3m-plus a year, profits consistently topping £300,000. Plus, in one of the poorest parts of the country (Cornwall's GDP is 62% of the national average), Fifteen pays 70 full-time salaries and spends £1m a year with local suppliers; one, Rob Hocking, says his plot once fed just his family but now, growing heritage tomatoes, herbs and berries for Fifteen, provides three decent incomes.
So we are not talking ordinary charity here. We are talking about real jobs in the real world. And for the trainees, a real chance to live the life they could live if circumstances and their own failings did not combine to doom them to poverty.
This year's graduates bring to 90-plus the number of young chefs the foundation and Fifteen have successfully trained. Some have found other jobs, usually in catering, but three-quarters are still cheffing, many in prestigious establishments. That's a lot of young lives set on a different course: off benefits, on a career track.
Yes, this is a small scale enterprise, but it is easily scalable. All it takes is money and determination. And does it make economic sense as public policy. Well yes.
All is not entirely rosy. After a few fat years, public money is running dry, and fundraising is going to be a big part of his job. "But look," Thomson says, "what are we worth? It costs £25,000 to train a Fifteen apprentice. A year on benefits might cost £52,000; a year in prison, £70,000. This isn't just poverty alleviation.
Across the country, work force centers that assist the unemployed are being asked to do more with less as federal funds dwindle for job training and related services.
In Seattle, for example, the region's seven centers provided training for less than 5 percent of the 120,000 people who came in last year seeking to burnish their skills. And in Dallas, officials say they have annual funds left to support only 43 people in training programs, nowhere near enough to help the 23,500 people who have lost their jobs in the last 10 weeks alone.
This is not the fault of the Obama Administration; it is the Republican controlled Congress that sees all Federal spending as evil, and all unemployed as lazy bums who could work if they were just willing to give up the riches of public benefits.
In his latest budget proposal, President Obama also requested an additional $2.8 billion a year for job training over the next decade. "Even in this very tight budget," said Gene Sperling, national economic adviser, "the president felt that there was an imperative to call right now for a more simplified and effective training system" that also had an increase in funds.
Whether Congress is willing to consider more aid is uncertain. The federal budget endorsed by House Republicans calls for reductions in a broad category that includes job training
.
Yeah, that's the great Paul Ryan Plan so enthusiastically endorsed by not only Republicans but many 'Very Serious People' who see it as a reasonable proposal.
At any rate, the self destructive policy
in the
United States
of weakening rather than strengthening job training continues.
Federal money for the primary training program for dislocated workers is 18 percent lower in today's dollars than it was in 2006, even though there are six million more people looking for work now. Funds used to provide basic job search services, like guidance on résumés and coaching for interviews, have fallen by 13 percent.
And with higher unemployment there is less tax revenue and greater demand for public assistance. In short, Federal policy is accomplishing the opposite of its goal of promoting growth and opportunity. But then, that's what Conservatives have been for all about haven't they.