And Calling Michele Bachmann's Campaign – Anyone There?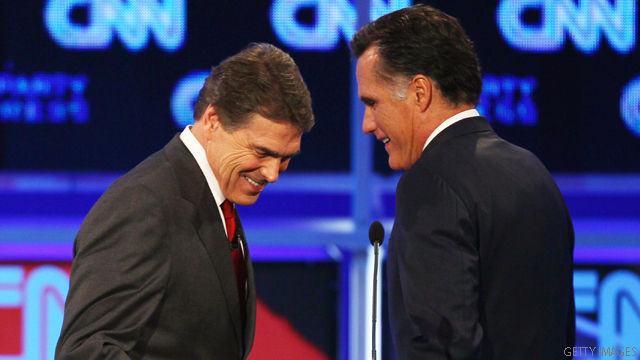 It's Still just these two

The debate performance of Texas Gov. Rick Perry in Thursday's
gathering in
Orlando
was largely panned by the professional commentary class.
As far as Republican voters are concerned, though, not so fast.
The latest CNN poll
, released on Monday and containing the results of polling after the
Orlando
debate showed these results.
According to the survey, which was released Monday, 28 percent of Republicans and independents who lean towards the GOP say they support Perry as their party's presidential nominee, with Romney at 21 percent. Former House Speaker Newt Gingrich is at ten percent, with Rep. Ron Paul of Texas, who's making his third bid for the White House, former Godfather's Pizza CEO and radio talk show host Herman Cain, and former Alaska Gov. Sarah Palin, all at seven percent. The poll indicates that Rep. Michele Bachmann of Minnesota is at four percent, with former Sen. Rick Santorum of Pennsylvania at three percent and former Utah Gov. and ambassador to China Jon Huntsman at one percent.
Now these results should be taken
with at least several grains of salt.
First of all they do show movement towards Mr. Romney and there is a lag between the results of a debate and when those results show up in polls.
So later polls could show Mr. Romney much closer to Mr. Perry, or even in front.
There are some other interesting points in the poll.
Mr. Huntsman continues to be the one percent man, and needs to dropout soon to avoid humiliation which would damage his prospects for later on.
Mr. Gingrich has more support, but no one expects he will be the nominee. And the free fall of Michele Bachmann continues.
Ms. Bachmann finished dead last
in the recent Florida Straw Poll.
But she
had an explanation
for it.
"We had let it be known early on, and we released our supporters in Florida because there are straw polls all across the country right now," Bachmann added. "We told all of our supporters in Florida that they were free to vote for anyone else that we wanted because we weren't participating."
That's right, Ms. Bachmann did poorly because she advised her supporter to support someone else.
Ms. Bachmann ended with this evaluation of her status, now standing at a robust 4%.
Bachmann told reporters today she's happy where her campaign is now despite losing in Florida.
"We're positioned perfectly," she said.
Right